ETER as a whole is clearly inscribed into the Open Science movement with a direct link to OpenAire – via the ETER Zenodo community (https://zenodo.org/communities/eter) – and fully in compliance with the FAIR data principles (Fundable, Accessible, Interoperable and Reusable). The ETER Zenodo Community is used as a repository for ETER research activities and outputs. It has efficient search functionalities enabling to browsing and downloading of specific document types, such as training materials, conference presentations, policy briefs or publications (see ETER Zenodo Guide for all functionalities).
The ETER Zenodo community has two primary purposes:
It acts as a repository for ETER research activities and output from the ETER project team, such as analytical reports and training materials, as well as conference presentations and working papers.

It allows users working with ETER data  to share their analyses as documents (e.g., policy reports, conference presentations, working papers) in the ETER Zenodo community via https://zenodo.org/deposit/new?c=ete .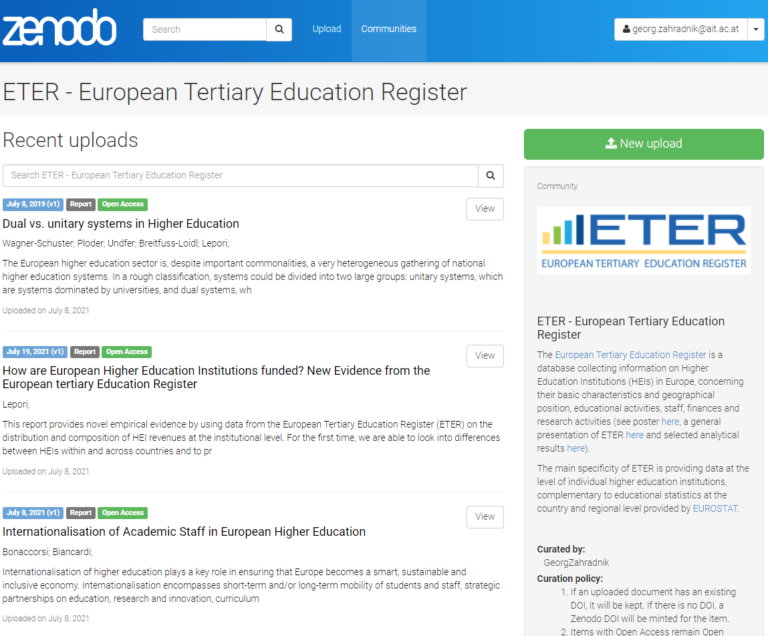 Complementary to the ETER Zenodo Community, a comprehensive list of scholarly publications using ETER data can also be accessed via Google Scholar.